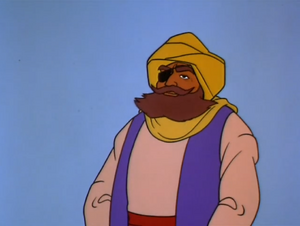 Pasha Peddler is an Indian merchant, who is friends with Hadji.
Physical appearance
He is a heavy set man with an eye patch and a thick stylized beard.
Personality
He is presumed to be Indian, but speaks with hippy lingo and a North American accent. He cuts his friends "deals," such as charging Dr. Benton Quest $39.99 for some parkas and a extra $20 for buttons and zippers.
History
Season one
Insert details here.
Appearances
The Real Adventures of Jonny Quest
Characteristics
Details about physical appearance and personality.
Season two
Season two details.
Voice actors
References