The following are reviews for the game Jonny Quest: Cover-Up At Roswell.
Overall
The game received mixed reviews. MacFormat gave the game an overall rating of 74%, and FamilyPC gave the game a score of 87/100. Entertainment Weekly gave the game a B+, saying that "anybody raised on [Jonny Quest] will get a kick out of this delightful romp."[1]
PC Powerplay called the game "another terribly average puzzler for the young ones." The Official Australian PlayStation Magazine included the game at #11 of its 1999 list of "the 100 biggest stinkers of all time" describing it as an "hilarious shoddy mix of adventure and beat 'em up that still brings a tear to the eye. And not a tear of joy."[2]
| Publication | Date | Score |
| --- | --- | --- |
| Entertainment Weekly | Oct 1996 | B+ |
| MacFormat | Feb 1997 | 74/100 |
| FamilyPC | Feb 1997 | 87/100 |
| PC Powerplay | Oct 1999 | n/a ("terribly average") |
| Official Australian Playstation Magazine | Oct 1999 | n/a (#11 worst game of all time) |
Entertainment Weekly
The following review was printed in the October 1996 issue of Entertainment Weekly magazine:[1]
JONNY QUEST: CRISIS AT AREA 51 (Virgin Sound and Vision, CD-ROM for PC and Mac, $34.95) The heroes from the '60s Saturday-morning show get a '9Os interactive makeover in which silver-haired Race Bannon looks like the Marlboro Man, Dr. Benton Quest does an uncanny Orson Welles, and Jonny himself seems to be replaced by the Soloflex guy. The team — along with an ever-submissive Hadji, a hyperactive Bandit, and Race's adopted daughter, Jessie (a spunky, cybersavvy sidekick) — must track down five mysterious interstellar objects before the evil Dr. Surd gets a hold of 'em. The puzzles are pedestrian (Pac-Man rip-offs and dopey jigsaws), but I'll bet dollars to doodads that anybody raised on the high-flying shenanigans of a boy, his swami friend, and his smarter-than-Lassie pooch will get a kick out of this delightful romp. B+ —Kipp Cheng
MacFormat
The following review was printed in the February 1997 issue of MacFormat magazine:[3]
Cover-up at Roswell

Aliens in a game, again? At least this time you're not just shooting them. Join TV cartoon hero Jonny Quest and tour the world in search of alien artefacts...

You've seen the documentaries. You've seen the footage of an alien being dissected. You've seen Independence Day. The Roswell incident - the supposed crash-landing of an alien craft in New Mexico - has certainly spawned one kind of invasion, and it's no surprise to find it has got its tentacles into the multimedia world.

JM Interactive is distributing The Pandora Directive and Cover-up at Roswell, both from Virgin. Part of the Jonny Quest: the Real Adventures series, these kids' games are based upon the 1970s cartoon character, still to be seen on the Cartoon Network satellite channel and the BBC. Needless to say, no self-respecting hero can afford to miss the opportunities on offer at Roswell for some gung-ho adventure.

In Cover-up at Roswell, you control Jonny and the Quest Team as they try to find five pieces of alien debris from the crash-landed spacecraft which have been scattered across the globe. These must be found before the evil General Tyler and his Men in Black - in charge of the mysterious Area 51, where the craft is kept - get to them.

Before you can go anywhere at all, however, you have to get the computer belonging to Dr Benton Quest (ho ho!) up and running. The computer is riddled with viruses (must be a PC), and you are presented with three moderately cerebral puzzles to crack in order to get it going. You can then read your e-mail and import video footage of the crash into the "hologlobe", which tells you where the five pieces have landed. To begin with, the computer can only calculate two of the sites, so your first mission is a choice between Manhattan and Peru. Either way, it's a jungle out there!

The game essentially consists of introductory movie sequences followed by interactive maze-negotiation punctuated by occasional puzzles. The movies - which really capture the TV cartoon feel - are a little grainy, but they are large and the animation is very quick and smooth. The soundtrack is also very atmospheric, although when the movies are over and you're in charge, the background music can be intensely irritating: endless drum beats or repetitive suspense rhythms.

Controlling the Quest team is generally limited to deciding which way they're going to go next (with the mouse), and rather than scrolling through the landscape you are simply presented with a still for each location. These are tastefully done on the whole, and the dialogue can be very amusing: the character with consistently the best lines is Dr Quest's lab assistant Hadji Singh, who comes up with gems such as "Pardon my hesitancy to proceed into the bowels of New York City."

Now and again, there's a little more action: on arriving in New York, for example, you have to land your helicopter on a rooftop, and in Peru you must navigate your raft through the rapids. "Rapids", alas, is something of a misnomer, as these game elements are pretty sluggish. To help you find the alien objects, you have a radiation tracking device and a Global Positioning Unit. These are tastefully done, but they seem a bit unnecessary, and calling them up slows the gameplay.

Cover-up at Roswell is certainly aimed at younger players, but they may tire of it quickly. Any fully paid up member of Generation X will greatly enjoy sitting back and watching the movie sequences with a nostalgic sigh and a Pot Noodle™, but kids are likely to expect more action. The interface is beautiful to look at, but performing simple tasks such as saving and restoring games (absolutely necessary, given the size of the game) really gets on your nerves after a while - it's just loo fiddly and time-consuming.

There's plenty to explore - after the two locations listed above you've still got Tanzania, Bermuda and Utah, as well as Area 51 itself, to investigate - but it will take a lot of patience. At the end of the day, it's a very simple old-style adventure game, hidden underneath some very flashy clothing.

ANDREW CHAPMAN

Cover-up at Roswell

A game aimed at kids, with a genuine cartoon adventure feel, but too slow and fiddly, and probably too cerebral, for young players

Graphics 80%
Sound 77%
Gameplay 70%
MF rating 74%
FamilyPC
The following review was printed in the February 1997 issue of FamilyPC magazine:[4]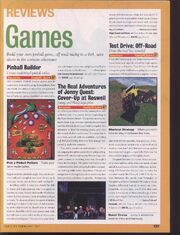 The Real Adventures of Jonny Quest: Cover-Up at Roswell
Jonny and Hadji high jinks

Adventure
FamilyPC score 87

An alien spaceship enters the atmosphere and splinters into five pieces before exploding in the New Mexico desert. The government is trying to hush it up, but you can help Jonny Quest and his friends Jessie and Hadji complete five missions to find the missing pieces and help the stranded alien on his way. To assist you in your task, several tools are available, including a global positioning device to help you get oriented in each new country.

You solve puzzles in each mission — 37 in all, ranging in sophistication from using a sling-shot to kill rats in a subway to eliminating computer viruses to working your way through a maze in the jungle. The game maintains a nice momentum by alternating exploration and puzzle-solving with video sequences. Characters nudge you in the right direction, and a help feature provides solutions to puzzles. Navigation is easy with the mouse, while the included 3-D glasses provide some added visual impact. Jonny Quest combines high-tech tools with outdoor environments and local cultures for an engaging adventure.

—Marianne Cotter

Virgin Sound and Vision, 800-814-3530 or 310-246-4666; Mac and Windows CD, $34.95; ages 8 to 12.
PC Powerplay
The following review was printed in the October 1999 issue of PC Powerplay magazine:
The Adventures of Jonny Quest

Genre: Children's Adventure • Developer: Dreamcatcher • Publisher: Hilad Corporation

Jonny Quest was one of those Saturday morning cartoons classics from decades ago that made something of a comeback. You may remember the revamped series on our screens recently. The show concerns a little guy, Jonny Quest, as he dashes about with his friends, Haji and Jessie, saving the planet from the evil villain, Dr. Surd. Good healthy stuff for a young boy scout. From first glance this looks to be an educational tide, thinly veiled as a game. But no, this no edutainment, it's just adventure the whole way.

This game is aimed at the quite young gamer. The ones who can use a computer competently but aren't quite ready for full scale gaming. So you could say this is adventure gaming with training wheels. So it's catering to a particular market - that's good. And the fact that it's mostly basic puzzles rather than just shootin' stuff is good too (that's sort of educational, isn't it?).

The system requirements are for a 486, so the game appears on screen in a tiny window. Your heroes don't actually move on screen, they just stand around in the mannequin positions. When you move to a new scene, they stand around in fixed position, while their lips move. It's fairly solid but not very exciting at all. The visuals being rather gloomy, I can't see how it would entrance a child for very long. As a diversionary tactic for the kids, it's pretty' uninteresting!

It's easy to feel like it's a repackaged game from five years ago and a poor one at that. The game has some cute animated cutscenes (a la Hanna Barbera) and there might be some nostalgia value in this game, for the Jonny Quest fan. Otherwise, it's another terribly average puzzler for the young ones.

John Dewhurst
See also
References