This article is about the standard continuity character. For other uses, see Jezebel Jade (disambiguation). But for the TV film Jonny's Golden Quest version, see Jade Kenyan-Bannon.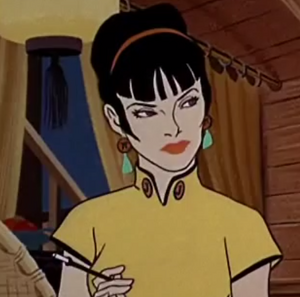 "Jezebel"[1] Jade is a mercenary for hire, entrepreneur, an ally of the Quest team, and a love interest/old flame of Race Bannon.
Physical appearance
Insert details here.
Personality
Insert details here.
Skills
She can deduce a man's real identity by a single kiss.[2]
History
Jonny Quest (1964 TV series)
Insert details here.
The Real Adventures of Jonny Quest
Season two
Insert details here.
Appearances
Apocryphal
Jonny Quest (Comico)
Insert details here.
Jezebel Jade
Insert details here.
Tom and Jerry: Spy Quest
Insert details here.
Voice actors
Notes/trivia
Jade was planned to appear in the 1986 revival, but perhaps due to only lasting thirteen episodes, that never happened. Her backstory with Race was supposed to be explored (which ended up happening in the unrelated limited series of Jezebel Jade by Comico).

Some of the intended backstory of that was included in the telefilm Jonny's Golden Quest, particularly her being an Intelligence 1 agent working with Race. They had a short-lived romance, but it never went as far as marriage. The Jessie character was thrown in from a failed attempt at the aforementioned 1986 revival having Jessie Bradshaw be a recurring character. In addition, Jade was also made Caucasian with long red hair.

When production changed half way through Real Adventures, new writer Lance Falk took measures to rectify this by splitting Jade Kenyan-Bannon into two people, with Jade being restored to her former self, and the add-on of her being an ex-wife and mother of Race's child being turned into Estella, who worked as an archaeologist.
References
↑ TRA: Diamonds and Jade (1997), season 2, episode 20.
↑ Double Danger (1964), season 1, episode 9.