This article is about the standard continuity character. For other uses, Benton Quest (disambiguation).
Dr. Benton C. Quest is a world-renowned scientist and explorer. He is also the widowed father of Jonny Quest.
Physical appearance
Dr. Quest is an middle to late thirties man with red hair, a mustache, and full beard.
Personality
Dr. Benton Quest is a man very passionate about his work helping mankind. His inventions are all strictly for defense and improving health and livelihoods of others. While he does have to sometimes leave Jonny and Hadji behind or askew from his missions, he is a devoted and kind father and frequently enjoys bringing the boys along with him when he can.
History
Early life
When he lost his wife, the government seeing him as a valuable asset who they didn't want compromised by the weakness of his son being in trouble, ordered Race Bannon as the family's bodyguard.[1]
Jonny Quest (1964 TV series)
Insert details here.
Jonny Quest (1986 TV series)
Insert details here.
Apocryphal
Jonny Quest (Comico)
Insert details here.
The Real Adventures of Jonny Quest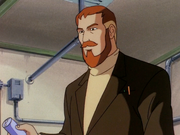 Main article: Benton Quest (The Real Adventures)
Tom and Jerry: Spy Quest
Insert details here.
Voice actors
Notes/trivia
Dr. Quest made a cameo in the credits of Scoob, helping heal and cybernetically enhance the dog that became Dino-Mutt.
Gallery
Main article: Benton Quest/Gallery
References